The winner of the NIKON Image Contest 2014 is Pauline Fleischmann.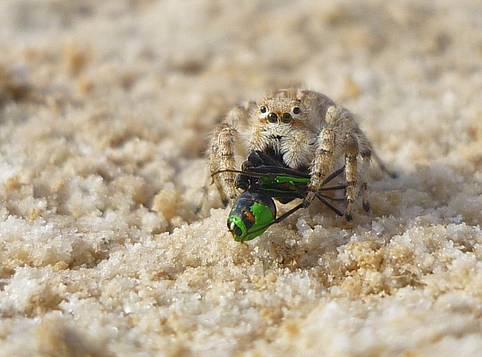 Arachnid's attack assassinates my ant;
by Pauline Fleischmann, Department of Behavioral Physiology & Sociobiology
Performing behavioral experiments in the field poses daily challenges. Since my study objects, the desert ant Cataglyphis fortis, lives in saltpans – so-called chotts and sabkhas – in Northern Africa, I am used to work in the desert: very high temperatures, strong wind as well as a lot of sand and salt. The desert ants are highly adapted to this hostile habitat and model organism for spatial orientation. To register single visits of individual ants at the feeder, I marked the ants with a unique color code. Despite the ants' adaptation unfortunate happenings occur. During my research stay in Tunisia (June-September 2014), I lost many ants, because they fell prey to other inhabitants of the desert. It was heartbreaking to watch a spider carrying my orange-green test animal away – especially since I had not tested this well-trained ant before. This attack did not only kill an ant, but destroyed days of
scientific work.