2010 Feb
2010 February newsletter - No 1

FOR YOU
---
Editorial
Dear GSLS members and friends,
The new year will be a special challenge for the Graduate Schools as we are entering the second phase of the Excellence Initiative. However, since the establishing of the GSLS some three years ago we have slowly but steady received positive feedback. A video by the DFG (German Research Foundation) gives you an impression of our way and of the GSLS´ objective to discover the "secrets of life".
A Passage to Excellence - A Message to Excellence. You may have liked the slogans, you may have not. Why don´t you tell us? What would you think is a really good GSLS slogan? Please impart.
In 2010 you can again expect any possible support by the GSLS, and look forward to an even wider range of offers. The GSLS team keeps on trusting in the aspects of quality, pioneering, interdisciplinarity and internationality, and we look forward to another year full of ideas to share.
With kind regards,
Rose Liebert
In this newsletter you will again find the five sections
1. Featured Paper
2. Doctoral Students´ Affairs
3. GSLS Newsdesk
4. University News
5. Off Campus
---
1. Featured Paper
The awardee of the 2nd round from the featured paper contest has been chosen. The DSC and the GSLS board wish to congratulate Felicitas Müller (Department of Molecular Medicine and Surgery and Center for Molecular Medicine, Karolinska Institutet, Stockholm, Sweden, formerly at the Institute of Clinical Biochemistry and Pathobiochemistry, University of Würzburg). She is awarded with a prize of 250 euros for a conference participation or external research stay. Appraisal. Read more
GSLS doctoral students are invited to email their publications dating from December 2009 onwards to run for the next "Featured Papers".
---
2. Doctoral Students´Affairs
For your messages
News & notices, dates & facts

. Are you looking for new friends to play cards with? Do you want to share your research findings with somebody from another section? You may post any message here.
The English Drama Group(EDG) of the University will put on a play '

The Memory of Water

' on

Feb. 3rd, 4th and 5th at 20:00

in the Stadtmensa. More information about this play, history of former performances of the EDG can be found here.

Tickets

available every weekday from

11:00-14:00 in the Hubland

Mensa

. For reservation please contact Fr.Hedrich at

0931-3181125

.

VBio

: "Verband Biologie, Biowissenschaften und Biomedizin". Read more (in German)
FAQ of the month
Is it the Graduate School 's expectation that the doctoral degree will be earned in six semesters?

---
3. GSLS Newsdesk
People. The GSLS welcomes new PIs!
Markus Engstler; Zoology I
Heike Rittner; Medical Faculty
Paul-Gerhardt Schlegel; Pediatric Clinic and Policlinic
GSLS Online News
Transferable Skills workshops
February: Effective Scientific Presentation / Information Technologies in Health Care for Life Scientists / Poster Design and Presentation. March: Written & Spoken English / Job Interview / Giving Academic Talks / Becoming a Better Academic Writer / Patent Law. - Schedule 2010
A good photo for your job application
On

Tuesday 23 February

the

Career Service

is offering a photo shooting at a reasonable price. You will also get some good advice of how to present yourself in the picture. Please register
---
4. University News
People
New professors.

Charlotte Förster

(

Neurobiology and Genetics), and

Johannes Liese

(Pediatric Clinic and Policlinic)

New scientific referent

for the president. Josef Wilhelm

(46) studied biology in Würzburg and then worked for the Job Center. He says he wants to focus on a close partnership with schools to inspire young people to take up a university study in Würzburg.
New university press spokesman

Georg Kaiser

(59)

,

f

ormer university vice president,

was appointed by president Forchel

.
Award
Bringing great ideas to life

: biophysicist

Rainer Hedrich

has been awarded 2.5 million euros from the

European Research Council

. With this money he wants to carry on researching on carnivorous plants. Read more (in German). Two years ago GSLS vice dean Martin Lohse was awarded with this prize. Read more
Research findings
New findings suggesting several therapeutic strategies against malignant tumors of the immune system are described by the research team around

Andreas Rosenwald

in the international weekly journal of science nature. Read more
Bachelor
The first bachelor degree course in

Biochemistry

(B.Sc.) has been launched with 322 students. Read more (in German)
A new type of chair was established:

Digital Humanities

. Read more (in German)
Students´ Protests on the Bachelor-/ Master Study Programs
Although the governance and the senate of the Universität Würzburg have acknowledged the fact that the Bachelor-/Master study programs have to be amended – which has already resulted in new guidelines (ASPO) – protesting students occupied lecture halls at the end of last year. Both the protesting students and the University governance published open letters online to explain their views. In his last letter that was

signed by all members of the university governance, by the deans of all faculties and by the women´s representative

Professor Forchel announced that the

Bachelor and Master study programs will be

further improved to work more flexible

. Read more

(in German)
New medical doctor
titles
Matthias Frosch, Dean of the Medical Faculty of this University, doesn't think it is a good idea to restrict the Dr.med. exclusively for researching doctors and to additionally introduce the medical doctor title MD for practicing doctors. This might happen if the recommendations that the Wissenschaftsrat (Science Council) gave the Bundesregierung (federal government) will materialize. Read more (in German)
New location for the University´s Patent Office
Now at Sanderring 2, 97070 Würzburg
Former housing blocks turn into institutes
The so-called conversion work on the

Leighton areal

- a former American military base next to Hubland - has started. The new buildings and seminar rooms will be completed just in time before the double Abitur leavers will enroll at the university in 2011. Read more (in German).
---
5. Off Campus
Congress on Blood Clotting
At Nürnberg Congress Centrum Ost, from 24 to 27 February. Read more (in German)
Publicly Funded Knowledge
A

petition dealing with

free access to publicly funded knowledge

has been submitted to the Bundestag. You may sign online. Read more
Contests and Prizes
Research on

Services for a sustainable development

(Dienstleistungen für nachhaltige Entwicklung) are prized in a contest by the Federal Ministery for Education and Research. Send in your paper by 19 February and read more (in German)

Postdocs

of 2009 in

Biology, Chemistry, Informatics, Mathematics, Neurosciences and Physics

may apply by 28 February if they want to publish their excellent research results in a popular scientific article. Read more (in German)
Breakthrough thrombosis drug wins German innovation prize. Read more
Research Stay in Japan
The Japanese Education and Science Ministry Monbukagakusho is offering research stays for

doctoral students and postdocs

of all faculties. Read more (in German)
Research
Würzburg
Circus Flic Flac

on the Talavera until 14 February

Fasching (Carneval)

: big

parade

on Sunday 14 February, 12:55 p.m. in the city of Würzburg. And again on Tuesday, 12:55 p.m., in Heidingsfeld - this is where you will meet the GSLS team!
Germany
Barack Obama Musical

in Frankfurt/Main with the gospel chorus "Yes we can". Read more

Jobs

and Career




Jobs. Qualified foreigners will get the right for an equivalence check with German degrees in order to find adequate jobs on the German labor market – from 2011 on. Read more (in German)

Career.

After

Frank Appel had finished with his studies in Chemistry and with his PhD in Neurobiology he was getting tired of struggling for first authorship papers. Moreover, it turned out that the job market for chemists was pretty tight. To make some money he started working in project management and counselling before he then sky-rocketed with the German post. Today he is CEO of Germany's biggest postal authority. Read more (in German)

Chancellor Merkel

warned Germans in her New Year´s address of tough times in 2010. Read more
Europe
Euro

. Time bomb for the Euro due to Greece´s public deficit. Read more
The World
Technology from the Soviet space program

adapted by Israeli and German scientists may offer volatile gas to power laptops and cars. Read more
---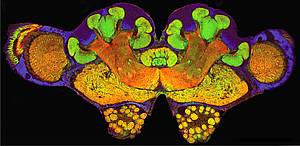 Frontal overview of the brain of the desert ant Cataglyphis fortis,
as seen with the confocal laser-scanning microscope. The structures
are highlighted through immuno-fluorescence with molecular markers.
Photo by Sara Stieb, Integrative Biology
---
---
contact: liebert@gsls.uni-wuerzburg.de
---
Disclaimer: this site contains links to third-party Web sites. The GSLS has no influence whatsoever on the information on these Web sites and does not accept liability for its correctness. The content of such third-party sites is the responsibility of the respective providers. At the time third-party Web sites were linked to GSLS sites no grounds whatsoever of any likely contravention of the law were found. We shall promptly delete a link upon becoming aware that it violates the law.